A day at the races should be an excuse to dress up as much as possible. However, there are some refinements that are needed to make you stand out in the right way. Dress codes at the races are a subject of continuing discussion among British racegoers at any rate. Among UK racegoers, racecourses rarely stand on ceremony nowadays; you might get turned away in swimmers and flip-flops, but just about everything else goes. By contrast, in Australia, dressing up is par for the course, and spectators of both genders jump at the chance to get dolled up. Fashions in the Field competitions are legion.
But in one sense this is simple. You should be wearing boots and breeches, a helmet, some silks, etc.
Then again, you're not a jockey, are you? If you're not intending to jump on board a horse, that's not the tip you'll be looking for. If you're looking to enjoy the comfortable facilities at Stratford, including its bars and restaurants while you watch the races, you're going to need some guidance on how best to dress to impress. A day at the races is no ordinary day out. It's an excuse to dress up. However, there are some refinements that are needed to make you stand out in the right way. Take a look at our guide to what to wear when visiting Stratford Racecourse, or for that matter any other racecourse around the Midlands.
Some basic rules
A day at the races is considered an occasion, so take a wander through the "Occasion" section of your favourite clothing brands. But remember, there are occasions and Occasions. Stratford is not Ascot, and Cheltenham in October is not Cheltenham in March. If you're in doubt as to the status of the meeting you're headed for, take some advice beforehand.
We're talking dresses and suits, but not necessarily formal. This is because a day at the races, the big events anyway, tend to be held in the summer, with the glorious exceptions of the Cheltenham Festival and Aintree Ladies Day, both exceptions to the rule. You're going to be outside watching the racing, making your UK bet, weather permitting, so summer colours, shoes, and patterns are all expected.
For men
You might think this answer is simple too: wear a suit. But since when is life simple? Men might be more limited in their options than women but they have to nail it, or you'll see the mistake and credibility goes out of the window. Make sure your suit is tailored and fits well. It was no coincidence after all that stylish but now sadly defunct Jermyn Street shirtmaker Thomas Pink became involved in the sport 20 years ago.
However, wearing a suit means you can experiment with it. There is fabric, colour and accessories to think about. You can take things up a notch with a three-piece suit to really look like you belong and play with prints and colours. Tweed is a regular at the racecourse, to the point that the barmen know its drink, but there are lots of options within that. Accessories on March 17 is code for a spring of shamrock for example.
Just remember the rules of seasonal wear: pastels for summer and spring, brights for winter, and warm tones for autumn.
Remember the golden rules: no outlandish or clashing patterns, no clashing socks, and no tuxedo. It's an outdoor summer event that doesn't call for a heavy dinner jacket.
There are also some unspoken rules re headwear: no Panama before Ascot, although global warming may have tempered the rigidity of this particular no-no. Time was when wearing a hat was obligatoire. Now men are more likely to be seen bare-headed or with a Peaky Blinders baggy tweed cap rather than a trilby.
For women
Women have a lot more options in general when it comes to fashion. For example, one big decision you will face is whether to wear a dress or not. Maybe you're more comfortable in trousers. There's nothing wrong with that. A nice pair of summer wide-leg trousers would be a smart option and can still be very bright for the occasion. Plus, a simple white or black t-shirt or shirt will really pop the colour of your trousers and leave you feeling comfy. Additionally, you can look rather daring in a jumpsuit at the races. Somewhere between trousers and dresses, this one piece will allow you to look done up without keeping a hold of your skirt the entire day.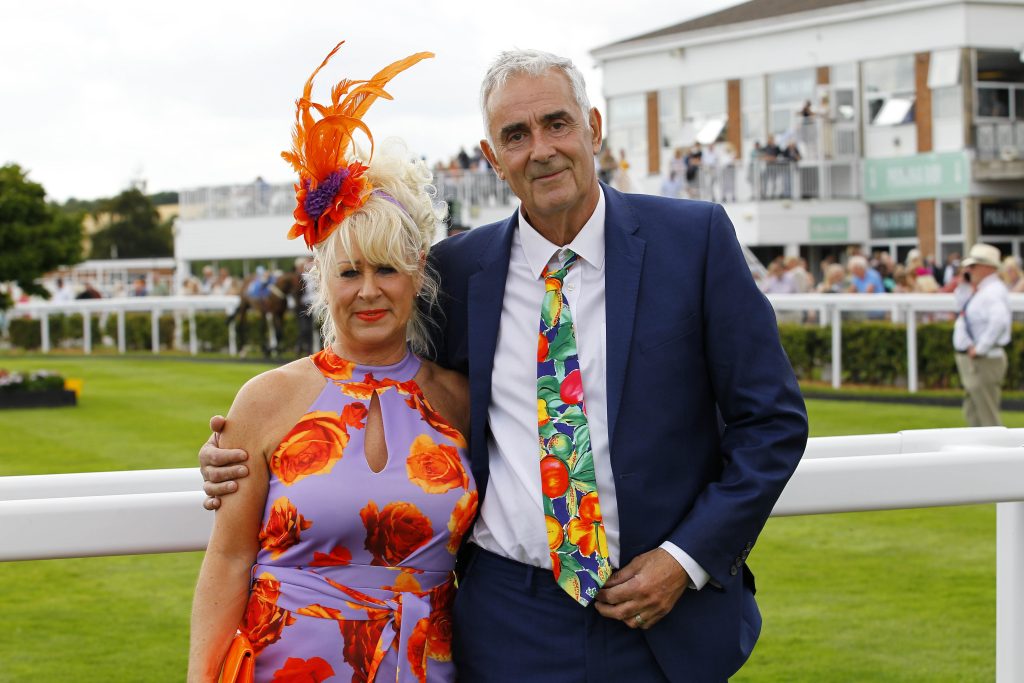 The winter brigade have adopted tweed in a big way for ladies fashions. It's no coincidence that Holland Cooper and Dubarry have become such enduring brands around Cheltenham. There's tweed and leather everywhere, from your dog's over-blanket to the garters of your socks and everything in between.
The real fun here is in the accessories. What is a day at the races without an outlandish hat? If you don't want to go too big, you can look into a simpler headpiece on a headband. However, it's a day at the races: we're not going to stop you from going as big and bold as possible, and hang what the folks behind you in the stands think; they can always move to somewhere with a better view!
Conclusion
All that to be said, a day at the races is like anything else: wear what you feel comfortable in. If you want to dress up, dress up. If you fancy a T-shirt and jeans, no one is going to have a problem with it. If they do have a problem with it, they need another drink.