Otherwise known as the Stratford-on-Avon Racecourse, Stratford is one of the most well-known racecourses in the UK. Located in the county of Warwickshire, its specialty is thoroughbred Jump racing and it holds around 19 meetings throughout the year from March to November. More casual than Ascot or Epsom, it is popular with serious racing fans, and those just looking for a nice day trip. The course is also a bit smaller than some of the others but it has a total of three enclosures including the Centre course, Tattersalls Enclosure, and the Club enclosure. Guests can also camp on site as it hosts the Stratford Touring Park which is great for caravans, mobile motorhomes, and up to 192 tents.
In addition to horseracing, the venue is also used for events like product launches and parties, and several set-piece public events like the Adventure Overland Show. But what else do you need to know about visiting Stratford Racecourse and Stratford-upon-Avon at large?
Going racing
The first thing to note about going racing in the post-pandemic scene is that you must book in advance. Click here to purchase. It may not always be this way, but for the time being, we're all keeping safe, and usually there are cost savings to buying early.
Parking in the public car park is free. You can also take a taxi to the racecourse and there are regular pick-ups afterwards. The station is a good 25mn walk.
The paddock is a central focus around which to study the horses and espy your fancy. Like a lot of courses appealing to a local audience, it's always a good idea to follow local stables. Dan Skelton, Olly Murphy and Richard Newland are always to be respected, whilst Fergal O'Brien, Nigel Twiston-Davies and Jonjo O'Neill often send well-fancied runners here.
One of the more obvious things to do at Stratford Racecourse is to bet on the races that are taking place! There are two ways to go about this; online betting, or betting with a bookie. As it's 2021, the most popular form of betting these days takes place online. From the convenience of a smartphone or tablet, punters prefer to bet on the races and benefit from a range of different bonuses, odds, and incentives. These bonuses can include additional prizes, bet matching, or even additional spins on games that aren't racing-related. For those who are new to horse race betting and online gambling, it's possible to follow a step-by-step article to help you compare the bonuses on offer as well as additional features.
Once you've figured out how you will bet, all that remains is getting your race day outfit sorted, finding someone to go with, and enjoying yourself with all the excitement that comes with this kind of events! Ladies Day each
Racing is great for people watching though. Sometimes, you can have as much entertainment watching others as the horses! Of course there's time enough for both in an afternoon's racing.
We always recommend you watch at least one steeplechase from the rail by an obstacle. The thunder of hooves, the breathing of horses at full gallop, shouting from the riders and the crash of birch collide to make a thrilling experience close up.
About Stratford-on-Avon
The town of Stratford d is famous throughout the UK and world as the home of William Shakespeare. The renowned poet, playwright, and author was born here and as a result, almost 3 million people a year visit to pay homage. It's also home to the Royal Shakespeare Theatre and plenty of other sites in line with the Shakespeare theme, like Anne Hathaway's Cottage. There are other theatres in the town as well as plenty of museums, an orchestral hall, and a number of stately homes nearby, like Charlecote, or Warwick Castle, where Richard Neville, the Kingmaker, manipulated politics in medieval England. The classic lines of palladian Ragley Hall are about 15mns drive away.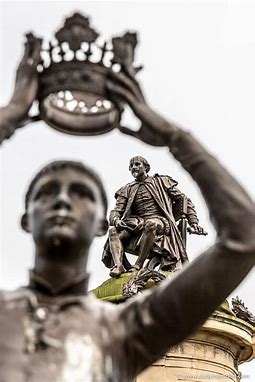 The town has a vibrant literature festival this year in July. But for most visitors, the river is an equally exciting attraction. Hire a rowing boat to amble up or down river and before you know it, you're tempted to jump in!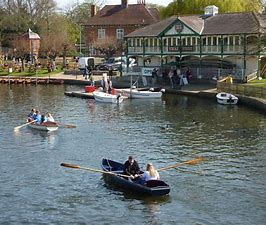 Other fun things to do include visiting a medieval pub called The Garrick Inn, and going to the Campaign for Real Ale beer and cider festival which takes place in Stratford every year.
Where to stay
Of course, the smart money says you should stay at the Racecourse in either a tent, a mobile home, or caravan. If you don't fancy that kind of adventure, there are plenty of other options. The Cotswolds, of which Stratford is a part, is home to a great number of stunning cottages, houses, and larger places that have been converted into accommodation. You can go full-out luxury in a spa hotel such as the Burnside Hotel, Broadway's Lygon Arms, or try a quaint bed and breakfast such as the Quilt and Croissants. Stratford is chock-a-bloc with B & Bs.
Stratford is less than 20 miles from the centre of England, and its motorway links through the M40, M5 and M6 make it easily reachable from virtually anywhere. As a base for exploring the Cotswolds or central England, and taking in a day's racing en route, it takes a lot of beating.