OWNERS
& TRAINERS
WINNING OWNER PRIZES
After each race, a Racecourse Director will escort winning connections to a private room where champagne will be served. There will be a chance to view that special race again and take home a complimentary USB card showing your race.
Winning Owners will be given the option to choose between several prizes, including:
Bertie's Racing Cushions – a bespoke racing cushion or door stop (x3), personalised with your own colours www.bertiesracingcushions.co.uk 10% applies to winning owners.​
Darren Bird offers our winning owners a cartoon styled portrait of your horse and jockey.​
Sally Lugg personalised bone China mug collection (x8)
STRATFORD GOLD STANDARD
Stratford Racecourse have been awarded the ROA Gold Standard Award for care and facilities for Raceday Owners.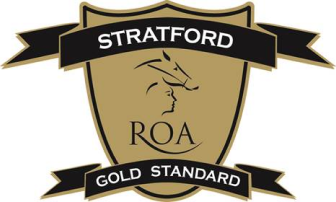 BADGES
• Owners should come to the owners and trainers entrance (just past the racecourse office) for their badges.
• Our policy is 6 x owners badges per runner for sole owners. Additional badges to include car parking, dining and owners room access are £25 per person and must be arranged in advance of attending the course.
• Partnerships, Company Ownership, Racing Clubs and Syndicates may either have a total of 6 badges which includes access to the owners room or they may have up to 14 badges which will only include paddock access and complimentary tea and coffee. Badge requests over the 14 will be paddock badges at £10. Any requests for badges over the 6 will automatically trigger paddock badges unless you have spoken to the office and made an alternative arrangement. Where space allows vacant hospitality boxes will be made available to syndicates complimentary. If you have any queries or worries about numbers of badges, please telephone us and we will do all we can assist.
• To enable us to ensure that all of the appropriate arrangements are in place we need you to provide us with the details of those who will be attending by no later than 4pm on the day before the race meeting. Please use the Racecourse PASS Concierge System to do this, via www.rcapass.com If you do not have access to the PASS System, or need any assistance in its use, please contact the PASS Helpdesk on 01933 270333 or pass@weatherbys.co.uk
• Please contact us as early as possible to arrange overnight accommodation for both horses and staff. Staff will be booked into bed and breakfast rooms.
• There is dedicated car parking for owners and trainers.
• Our owners and trainers room is equipped with a bar, food outlets, TV's, Tote betting facility. The room overlooks the course and pre-parade ring.
• Owners viewing: Covered seating in front of owners and trainers room. Further enclosed viewing on the top floor of the Warwickshire stand accessible by lift. Complimentary tea, coffee and biscuits
• Please call us if you are interested in a private box. These are sometimes available either complimentary or at a huge discount to owners and trainers.
For any queries re badges please contact Ilona Barnett on 01789 267949 or via email idb@stratfordracecourse.net
FOOD
Owners & Trainers will be offered a complimentary buffet lunch served with Tea and Coffee within the Owners & Trainers Suite.
We will be pleased to book owners into any of our restaurants. Please make reservations as early as possible to avoid disappointment.
For more details or queries please do not hesitate to contact the Racecourse office by emailing info@stratfordracecourse.net or phoning on 01789267949.Please call us if you are interested in a private box. These are sometimes available at a discount to owners and trainers.
NEED TO FIND OUT MORE?