As the flat season comes to an end after this weekend's Prix de l'Arc de Triomphe, attention has already started to switch over to the winter jumps season. And for all that we love staging fixtures in the bright sunshine and warmth of high summer, even at Stratford, we recognize that the core Jumps season begins at the start of October, with the season opener at Chepstow racecourse on Friday, October 8, just four days after our first of three fixtures that month.

Stratford's campaign straddles three seasons, but a week after Chepstow, our own autumn effort will come on Saturday, October 16, hopefully attracting some big name trainers and jockeys to accelerate the autumn season in style. It's a fixture where summer successes meet autumn debutantes to see whether racecourse experience can trump higher quality breeding.

When autumn gets underway, there will be a lot of action on for jump racing fans to keep up with, and seasoned veterans of the sport will know what they are looking out for. However, if you are new to jump racing, you may want to try and pick up as much horse racing knowledge as possible ahead of the new season. This could include combining some other gambling-oriented hobbies with horse racing. If you like to play casino games, then there are many horse racing themed casino games available. These include Scudamore's Super Stakes, a game available on many sites and with £5 deposit casinos, you can deposit a small amount.

With the additional knowledge you gain, you should be able to really enjoy the upcoming season.
What are the big events this autumn and winter?
Away from Stratford racecourse, there are a number of big events that you cannot miss this season – the highlights of jump racing where the biggest names from the sport all come together. The biggest week of them all is without a doubt the Cheltenham Festival, which is set to run on March 15-18, 2022. These four days see a tussle between the best from Great Britain and the best from Ireland, with 28 races and many huge prizes to be won. And British trainers will be keen to exorcize the ghost of 2021, when they received a fearful drubbing.
Ahead of the festival, as is traditionally the case, Stratford will race on March 14, the ideal place to be if you want to get yourself ready for the Cheltenham Festival. As an appetizer to the main dish, it's also a fixture where jockeys are trying to remain in one piece, whilst spectators chew over the prospects for the morrow's Supreme Novices Hurdle.
A month later, if we are talking about individual races then there is no bigger than the Randox Grand National at Aintree, which next year will be run on Saturday, April 9. This is a race that is watched by millions, including many who don't usually watch horse racing, or keep up with the sport in any way.
The National is one of the biggest sporting traditions that we have in the UK, and will no doubt once again attract plenty of attention. History was made in 2021, when Rachel Blackmore (pictured beneath) became the first female jockey to win the race and given her rise to stardom in the sport, you would be foolish to write her off winning another. It's great news to see her back after her recent injury. We're unlikely to see her here in the UK until March though.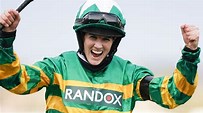 These are the two biggest events to look out for, but there are many more as the season progresses. Look out for the November meeting at Cheltenham, the biggest early-season meeting of the autumn. Christmas is another busy time, with the King George VI Chase at Kempton on Boxing Day, followed by the Welsh Grand National at Chepstow a day later. In reality, every weekend brings another great race to savour up and down the land.
Don't ignore the grass roots of the sport
The counties of Warwickshire, Worcestershire, Gloucestershire and up and down the Severn Valley are a heartland for the sport, housing horses galore for every level of racing.
And whilst the recent National Racehorse Week has focused on the professional ranks of the sport at the country's 60 racecourses, the strength of that support is fed by a hugely enthusiastic and practised amateur division at Point-to-Point level. Adapting to current trends, the Pointing season, which concludes at Stratford each May with the country's most valuable set of hunter chases, this season will begin in late October. Venues like Chaddesley Corbett, Mollington and Barbury Castle allow budding horsemen and trainers to learn the craft or race -riding and training without the bright lights of television coverage. Any newcomer should experience this branch of the sport to see the champions of tomorrow. For local fixtures, follow Pointing West Mercian.

With all of this to look forward to, the new autumn jumps season looks set to be another exciting one. But don't overlook us just yet… We've meetings of our own on October 4th, 16th as previously mentioned and 28th for our autumn swansong.