The highs and lows of being a racehorse trainer were amply illustrated on Sunday as Warminster trainer Milton Harris, formerly of this parish, notched a double but endured an empty berth in the horsebox for the third of his runners on the way home.
The regeneration of the Harris story is one of endurance over adversity. A man who at the turn of the century was among the higher echelons of the mid – size stables found financial stability difficult to secure. The ignominy of bankruptcy was followed by a spell in the doldrums before finding new premises at Sutton Veny, outside Warminster. Last season proved a breakthrough year, with 56 winners and nearly £600,000 in prize money, including a first Grade I winner in Knight Salute, perhaps a fortuitous sole winner of the Anniversary Juvenile Hurdle at Aintree after the demotion of dead-heating Pied Piper.
Since that memorable April day, there has been no let-up in the Harris momentum. The season is not yet a full month old, yet 18 runners have yielded 3 winners on a 17% strike rate.
And so to Sunday's eventful programme. Harris's first runner, Achy Breaky Heart had contributed 3 winners last term to that 56 winner tally, and four out looked set to add to that tally, leading into the final fence whilst pressed by Princess Midnight. However, both horses fell independently, leaving Jamie Snowden's Howdilyoudo to break her chase maiden tag.
There's an old adage in racing that you have to jump round to win, and this was one example, but also one in which the game Achy Breaky Heart paid the ultimate price.
No winner can compensate for losing a horse in a race, but the Harris – Mitchell Bastyan combination were quick to make amends. Not half an hour later, Appreciate won the Allen Vs Ford Selling Hurdle by 3l in a competent display that saw him bought in for 5,200 guineas.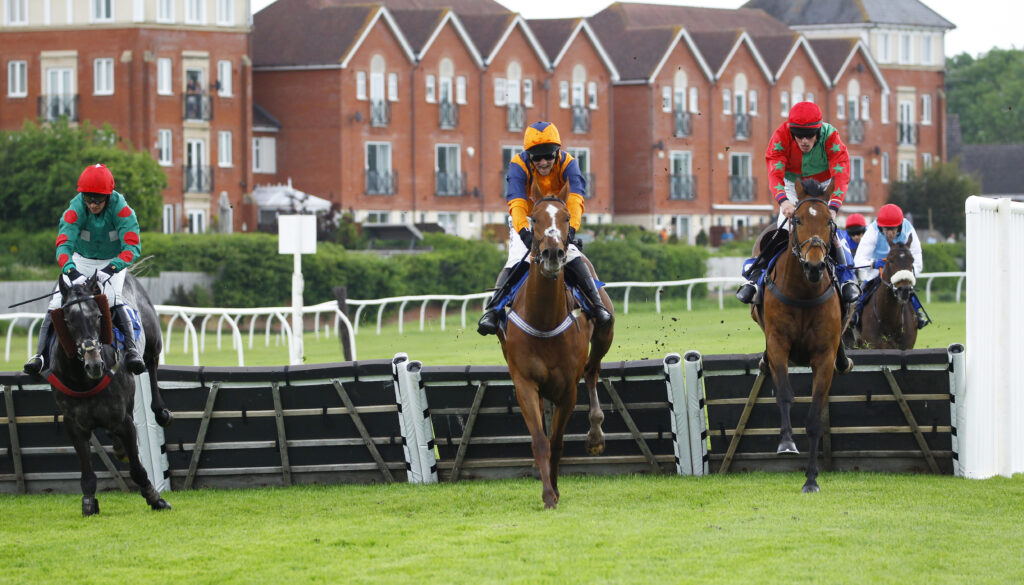 Stratford is one of very few racecourses who nowadays persist with selling races. Perhaps it's because there are so many opportunities to buy at auction, from Tattersalls in Newmarket and Cheltenham, to Yorton Farm or Goresbridge, but thee seems little doubt that bringing the theatre of the auction house to the track adds to the drama around racing. Is there a brave racecourse out there prepared to turn the concept on its head and stage a valuable seller rather than one catering solely for the lower reaches of the sport? Step forward you innovators!
Milton Harris's second winner to alleviate the loss in the second race came courtesy of 4/5 favourite Copshill Lad in the closing bumper, appropriately enough sponsored by Milton Harris Racing. The dark grey gelding had the race well under control and the 2 3/4l winning distance in no way describes the ease with which the winner put his rivals to bed. Look out for more from this Middleham Park Racing – owned gelding.
Two other Wiltshire trainers have endured contrasting fortunes these past 12 months. Neil Mulholland has consistently proved his worth in the top flight of those yards without big money owners, finishing last season with 62 winners and £588,000 in prize money, none of which accrued from big race winners. In the course of so doing, he responded to his owners' requests, including several innovative and great fun trips to Les Landes Racecourse on Jersey, where the prizes make UK racing look like Hong Kong by comparison, but where the craic is good.
Mulholland is another on fire at present, and a 30% strike rate in chases means only a fool ignores his runners presently. Ragamuffin, under a resolute ride from Sam Twiston-Davies, probably had the upper hand when his main rival Above Suspicion from the Tom George yard fell at the last in the catchily titled Fantastic Roasts at Riverside Novices Handicap Chase, to offer up the race at a 9l winning distance. Nevertheless, with six winner in the past week alone, it would be a brave man to oppose Mulholland runners just now.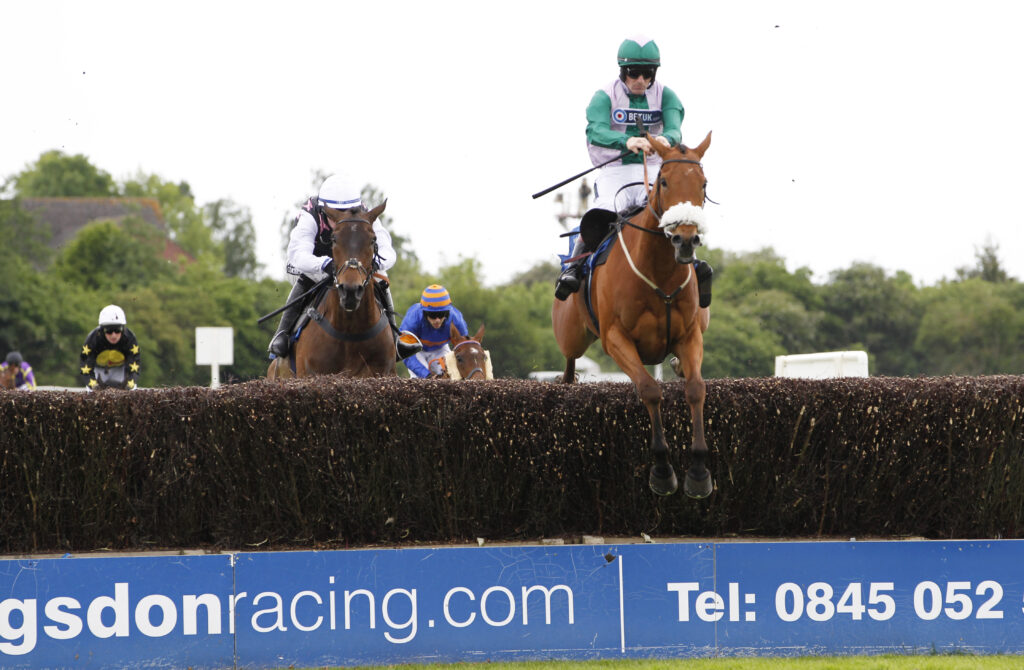 Neil King's fire has not been burning quite so brightly these past few months. Last season was in no way a failure, but the 15 winners had to be grafted for, and he will have been glad to start a new season with a little more momentum. In 2/1 joint favourite Give Me A Cuddle, he will have been glad to welcome his seventh winner of the new term in the Riverside Restaurant Stratford Open To All Maiden Hurdle. The winning owner was Andrew Cohen, former owner of Suny Bay and Uplands, the training yard made famous by Fred Winter.
You can never rule out the West Country in seeking winners during Stratford's summer months, and Sunday proved the rule once again. Philip Hobbs produced a winner in Shantou Sunset, perhaps not one of the yard's leading lights, who lacked nothing in determination to wear down the Mulholland – trained Viking Sunset, who looked the stronger at the last, in the Live Music at Riverside Mares Handicap Hurdle, under a robust ride from Jack Martin.
And 25 miles away in Wellington, David Pipe is a man you ignore at your peril. His may not be the big punting yard of his father in his heyday, but he learnt his trade from a master of the profession, and winners they come aplenty. Vernon Subutex, a winner of seven of his 24 starts in France, made a winning debut in the 2m 6f Stratford Parks Thank you to Owners Handicap Chase.
May is a busy month at Stratford, and we look forward to starting all over again on Saturday.