You could be forgiven for thinking there were just two trainers around Stratford reading this blog, and it's certainly true that Messrs Skelton and Murphy are prolific in their pursuit of winners. Yet Warwickshire and the surrounds of Stratford play host to plenty of other able handlers.
One such who's had a lean time of it in recent years is Robin Dickin, who enjoyed a welcome change of fortune when winning a handicap hurdle at Southwell yesterday. One-time Irish winning Pointer, the French-bred 9 year old Phoebus Lescribaa, flattered to deceive on that winning debut at Lisonagh in 2016, and has largely disappointed since, winning just 2 of his 16 starts.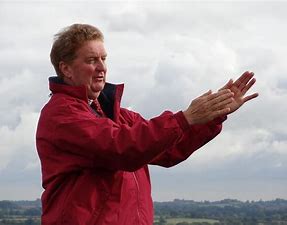 They say there's a race in every horse, but the patience of any owner is sorely tested over lengthy gaps between entering the hallowed Winner's Circle. Four changes of trainer, from Rebecca Curtis through Fergal O'Brien and Olly Murphy led Phoebus Lescribaa to Robin Dickin's door in July last year. And if truth be told, by the end of last year, Dickin himself may have been having doubts after a series of middling performances.
But May 2021, the horse may have turned over a new leaf! Dropping from middle distances to the minimum trip, Phoebus was just run out of it by 1/2l in a handicap hurdle at Southwell, so it was little surprise that the enterprising and persistent Dickin returned there a month later to finally get his head in front, again over the minimum distance.
Robin started training in 1986 at the conclusion of a successful riding career under both codes. He's since trained some 350 winners, led by Kadastrof, the prolific Dr Rocket, and current favourites like Thomas Crapper and Restless Harry, between them responsible for 15 winners including the Greatwood Gold Cup at Newbury in 2017, and Restless Harry's neck win over Teaforthree in the Weatherbys Hamilton Insurance Handicap Chase, a Listed race at Ascot in 2014.
Last season, however, runners and winners were well down on the halcyon years around the start of the decade. The team has adapted to new facilities at Alne Park near Stratford, where landlord Nic Allen, an enthusiastic owner and supporter of Stratford already, provides a benign interest in the developing business.
As every trainer will tell you, success is about persistence, doing the right thing on a consistent basis, and not a little luck. Owners can be fickle, searching for the latest name in the training ranks as if their methods were markedly different to any other. This is not to say the old ways are always the best; rather that the quality of training facilities all over the UK nowadays allows trainers to prepare their horses to much the same standards throughout, so fashions in choice of trainer often have a relative importance above their station.
Have no doubt. Top flight success and Robin Dickin will be bedfellows once more before too long has passed, and Stratford will be the better for it.
And so say all of us.