Like all racecourses in the UK, here at Stratford, we understand how important owners are to the sport of horse racing. As such, we do all we can to make sure owners have the best experience possible when watching their horses in action at our venue. Our own Stratford Racing Club is one such example which has met with great success. Owning a horse can take you to the grandest places!
If you have ever considered owning a National Hunt racehorse before, or it is something you'd be open to in the future, here are some of the benefits involved. 
Jumpers are generally cheaper then Flat horses
One of the obstacles that puts people off from becoming racehorse owners is the sheer cost involved. In flat racing at the highest level, some well-bred horses are sold for millions of pounds, with these sales often well documented in the press.
Jumps horses are generally much cheaper than those which run on the Flat. By dint of the fact that most chasers and hurdlers are geldings, there is no breeding potential to impact upon your purchase price. There is also Jump racing on turf 12 months of the year, which means there are far more opportunities for your horse to feature on the track at a summer or winter racecourse.
Hopefully, a National Hunt horse fits within your budget. Even if they come in at the lower end of the scale when it comes to their price, it does not mean you should not dream of running in the biggest races in the sport at the likes of the Cheltenham Festival and Grand National Meeting. Noble Yeats won the Grand National in 2022 after being sold for just £75,000 as a four-year at the Tatts Cheltenham December Auction.
By contrast, when dairy farmer Sirrel Griffiths won the Cheltenham Gold Cup with 100/1 outsider Norton's Coin, he had bred the horse from a mare he bought for £500 and a stallion for £700. The offspring – Norton's Coin – showed some promise in Point-to-Points, at which Griffiths bought him back for just £5,000. The horse won over £130,000 in prize money! Now that's a fairy tale ownwership experience.
Racing Clubs & Syndicates
Another way to make racehorse ownership much more affordable is to join a racing club or syndicate. If you have ever wondered, how do I buy a share in a race horse? Essentially, it is a relatively easy process. All you need to do is decide how many shares you want to buy. After you make your purchase, there are no further payments required in your opening year, as all the costs such as training and service fees are covered within your shares.
With race clubs like RaceShare, some of the benefits of being part of the club is that you will get the inside scoop from your trainer on the chances of your horse. You will be the first to know when it is declared for a race.
As a racing club or syndicate member, you also become part of a racing community. There are regular stable visits involved for you to see your horse up close, You will get to experience the thrill of seeing your horse on the track at courses like Stratford. Before you sign up for your shares, you can view the horses which are owned by the club. All their details such as their bloodstock, age, and experience will be available to view on their profile pages.
Stratford Racing Club members have enjoyed visits to Charlie Longsdon's Cotswolds yard to see their horse, and there has been much back-slapping at racecourses across the Midlands as Jamacho has done the club proud, winning last summer at Worcester, Stratford and Uttoxeter (see below for a celebrated win in our Summer Salver).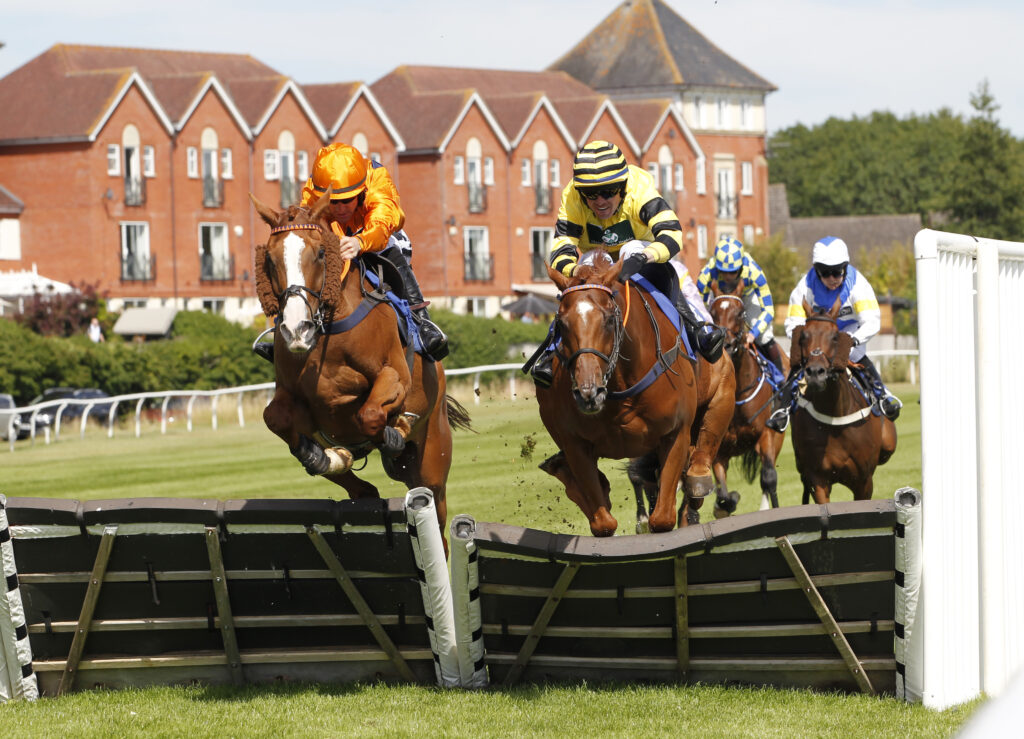 Stratford Ownership experience
As an owner at Stratford, you have access to an owners and trainers suite, where a complimentary buffet lunch will be served. There will also be tea and coffee available to you throughout the day. With your owner's badge, you will get access to the parade ring before your race. This is where you will speak to your jockey and trainer before the former jumps on board the horse.
If your runner is successful in their race, a racecourse director will guide you through the presentation and you get to take away a memento of the day. You will also get access to a private room where you can celebrate your success. Make the most of it! Winners are infrequent and there will be disappointment alongside success, which makes the latter so precious!
But what makes ownership so special is that instead of being a bystander, you achieve full immersion in the sport. Before long, you are reading the Racing Post from cover to cover every day, and you get to meet other owners, both in your own stable and beyond. Although you compete with each other in friendly rivalry, there's a terrific community spirit that binds everyone together. And all of a sudden, loads of friends want to accompany you to the races!
Good luck if you do take up racehorse ownership in the future. Hopefully, we will see you soon at Stratford Racecourse where we will be ready to welcome you with open arms.